Ok Im gonna post on this a little @ a time just because I dont think my brain can handle typing all this information one setting. Before you attempt this swap you need to realize that installing an engine in a vehicle that it didnt orginally come in is quite a challenge. If you are not mechanically inclined, dont have a budget, and dont know what DC current is then you dont need to be performing this swap. You will need approx $2,000- 2500 in supporting parts for this engine swap. You will also need basic hand tools, a garage that you can occupy for several weeks to several months, a welder, alot of patience, and a big wad of $$$$$.
Disclaimer- I am not responsible for your ignorance, I will do my best to describe my experience in swapping this engine. However, you must have common sense while working on this project.
DONT EVEN THINK ABOUT DOING THIS SWAP WITHOUT UPGRADING YOUR BRAKING SYSTEM OR YOU WILL KILL YOURSELF OR SOMEONE ELSE!!!!!

Beebani's Brake brackets (best option in my opinion)
www.datsunminitruckin.com/hardbody-disc-brake-brackets-for-trucks_topic1304.html

Acquiring an Engine

To swap this engine, you probably want to buy one!! I bought mine from Carlos @ JDM of Miami. I called him on the phone and haggled a little on price. You want to buy an S13 Blacktop or Redtop, This swap is for S13 ONLY and not for S14 or S15. I paid roughly 1800$ shipped to my brothers work (they have a forklift). I would reccomend shipping the engine to a buisness that has the capability of unloading the engine and loading it into your truck. Its cheaper and ALOT easier this way.

You want to find an engine that has the lowest possible mileage and abuse. Look for things like broken parts, missing parts, corrosion, broken off bolts, oil leaks, burned or cut wires etc. Study pictures of the engine you wish to buy. Ask lots of questions to the seller and make sure they have some sort of warranty or return policy should something be amiss. Be smart and dont buy and engine on a whim. Dont buy an engine that looks clean in the pictures, sometimes sellers clean up the engine to make it look more presentable. I would rather buy a dirty engine SO I know exactly what I am getting.
Once you receive your engine inspect it for damage. Check the condition of the oil, and antifreeze. These two fluids can tell you alot about the engines condition. Get the engine up on a stand so you can begin to work on it. I prefer to scrub and deagrease the engine immediately. It makes things alot simpler when everything is clean.
To put the engine on the stand you must remove the clutch and flywheel. The flywheel bolts are a 14mm 12point so be sure you have one of these sockets so you dont have to run and go buy one like I did.
Engine Mounts
To fit your sr20 into your 620 pickup you will need

1. Stock Sr20det steel mounts (the ones bolted to the engine block)
2. Stock 620 rubber Mounts (the ones bolted to the frame)
You will need to strip your engine bay down so you can work in there, remove everything!!!!
With your sr20 on an engine stand remove the intake plenum, alternator, power steering pump, ac compressor, exhaust manifold, turbo, all coolant lines, oil lines. Make sure to bag and label all of your parts as you remove them there are alot of bolts on this engine and it can get really confusing if you dont know where they go. Invest on a box of sandwich bags and a sharpie, they are your friend.
You want your block to be bare.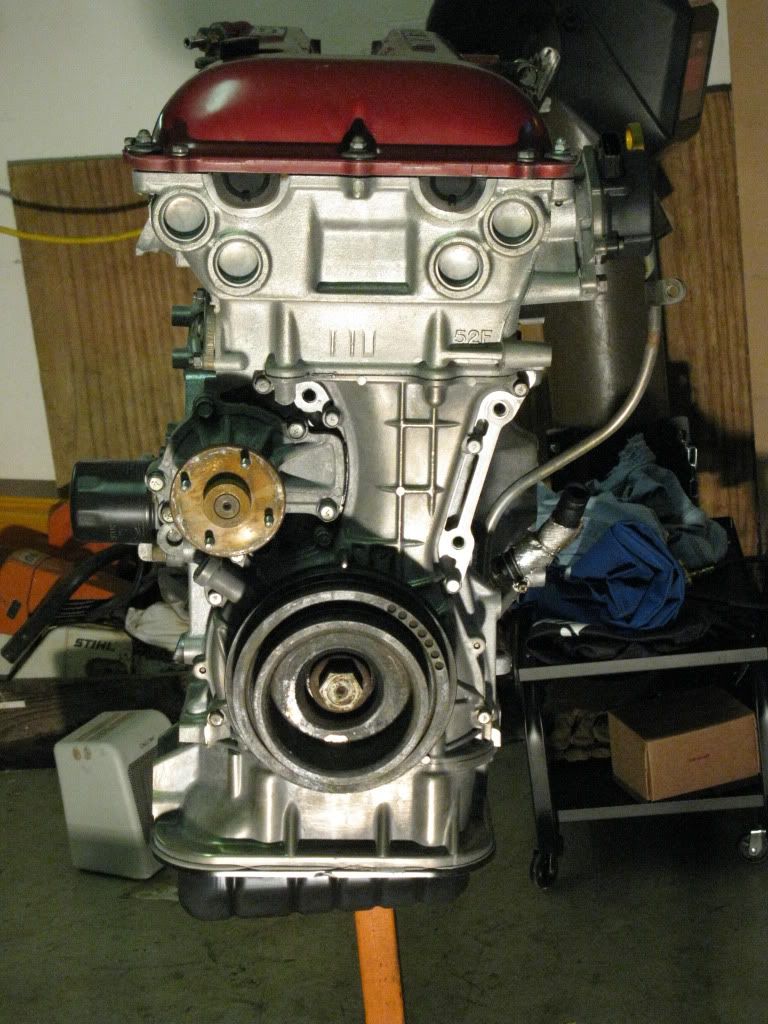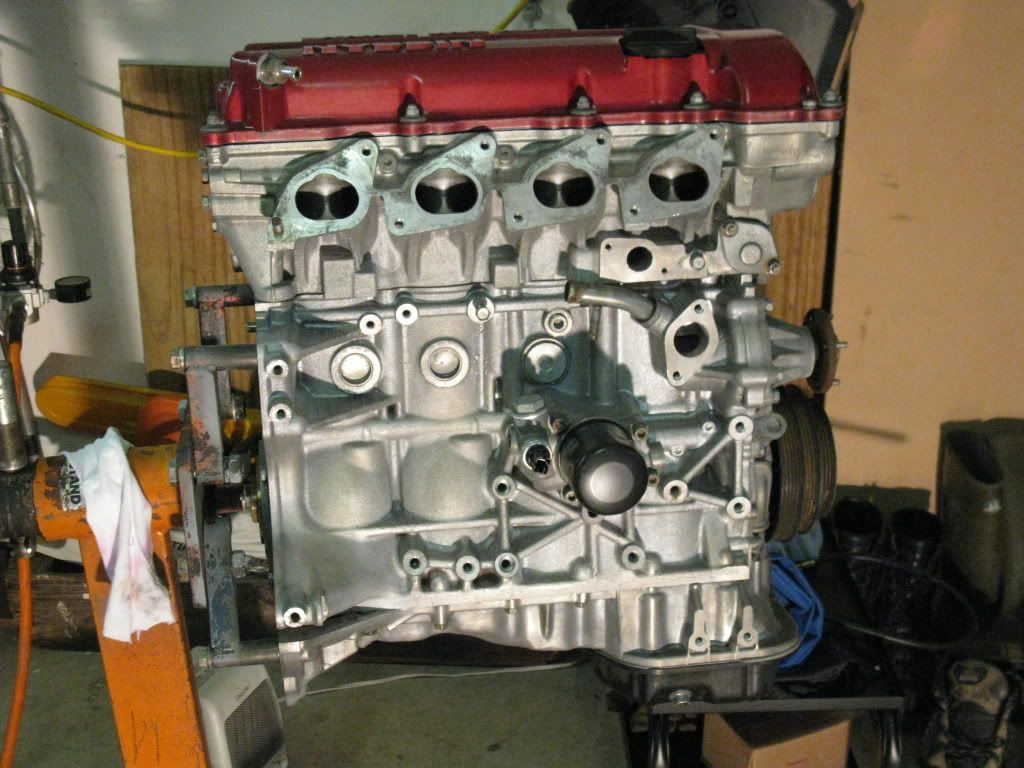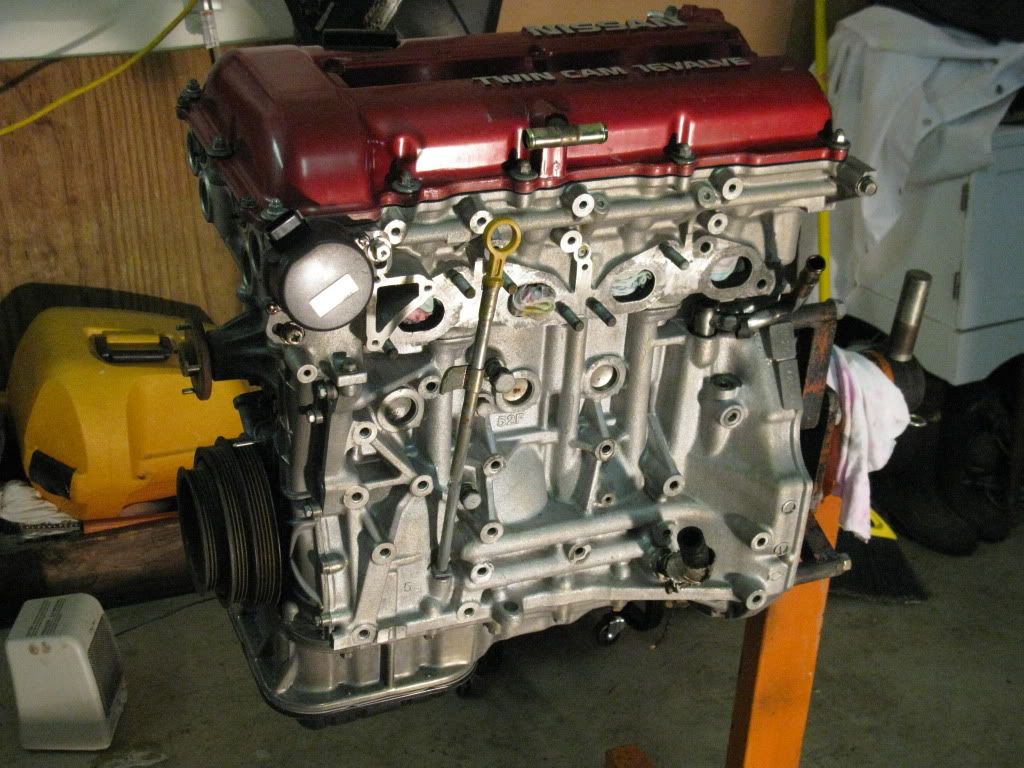 With your bare block bolt the rubber 620 mounts to the sr20's steel mounts.(you may need to file the notches on the steel mounts to accept the alignment pins on the rubber mounts, you will understand what I am talking about when you try to bolt the mounts up, use a round file and you will be fine)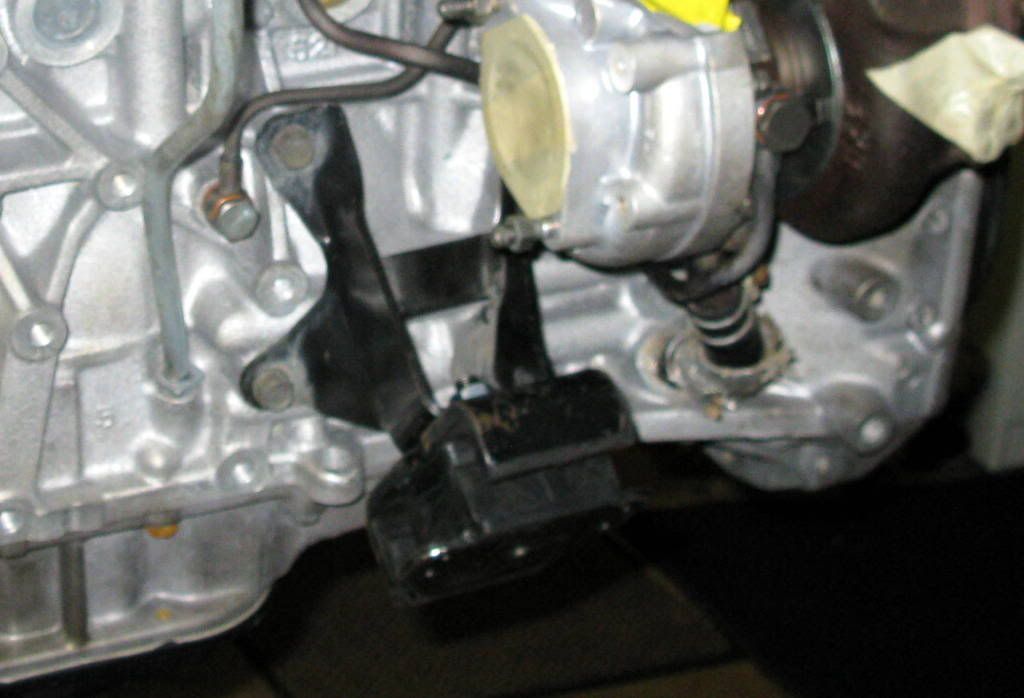 You are now ready to test fit your sr20!!! Raise the engine up on the proper engine hoist, chain hoist etc. Slowly lower the engine down into the engine bay, you want to position the engine so that you have clearance behind the block for coolant lines etc. You also want clearance in front of the block for radiator, and fans. You can see approx how close my engine is to the firewall. You will have to test fit the transmission at this time as well. USE THE STOCK 620 RUBBER TRANSMISSION MOUNT AND BOLT IT TO THE FS5W71C SR2ODET TRANSMISSION. You will need to slide the transmission under the truck and hoist it up from underneath. It is not easy but it can be done!!!! (I had to slide the engine forward, bolt up the tranny, then slide them both back into position. This is because the firewall gets in the way) Once you have the tranny bolted up you will need to position it on the crossmember so the engine will be tilted at the proper angle. You may wish to notch the holes in your crossmember at this time so you can bolt it up to keep it from moving out of alignment.
I used a carbide step bit in a drill to notch the holes in the crossmember. It is best to place the crossmember in a vice so you can work on it easier. The amount or material you will need to remove from each hole varies, notch a little at a time and test fit the crossmember. (get used to test fitting as you will be doing this alot)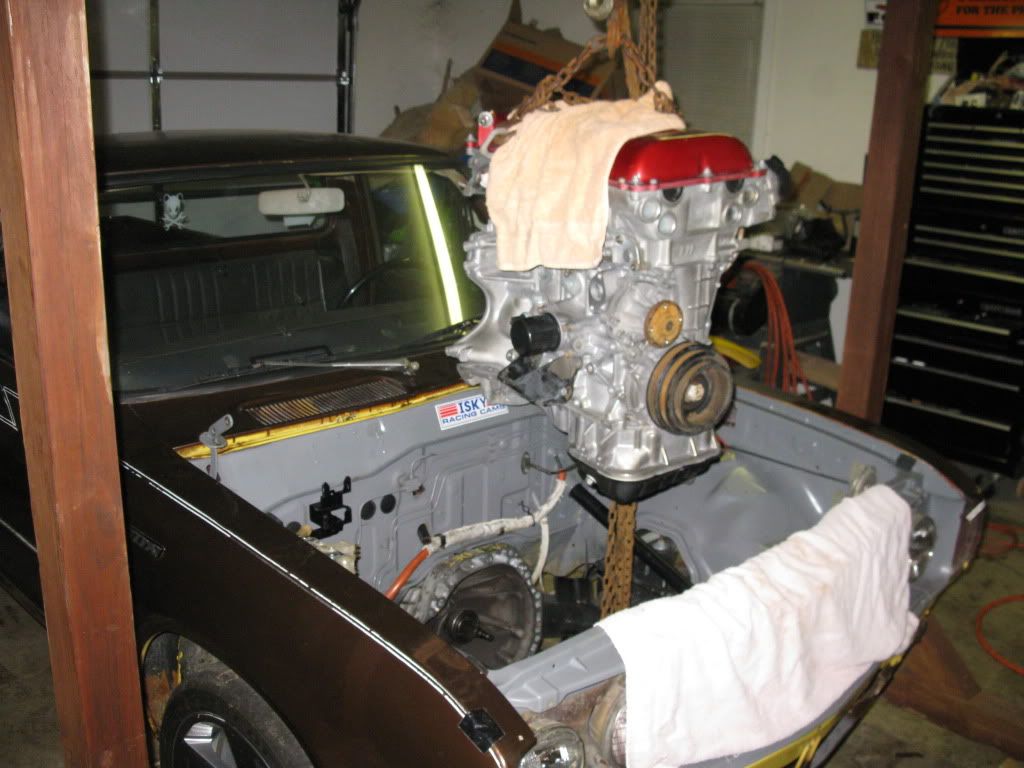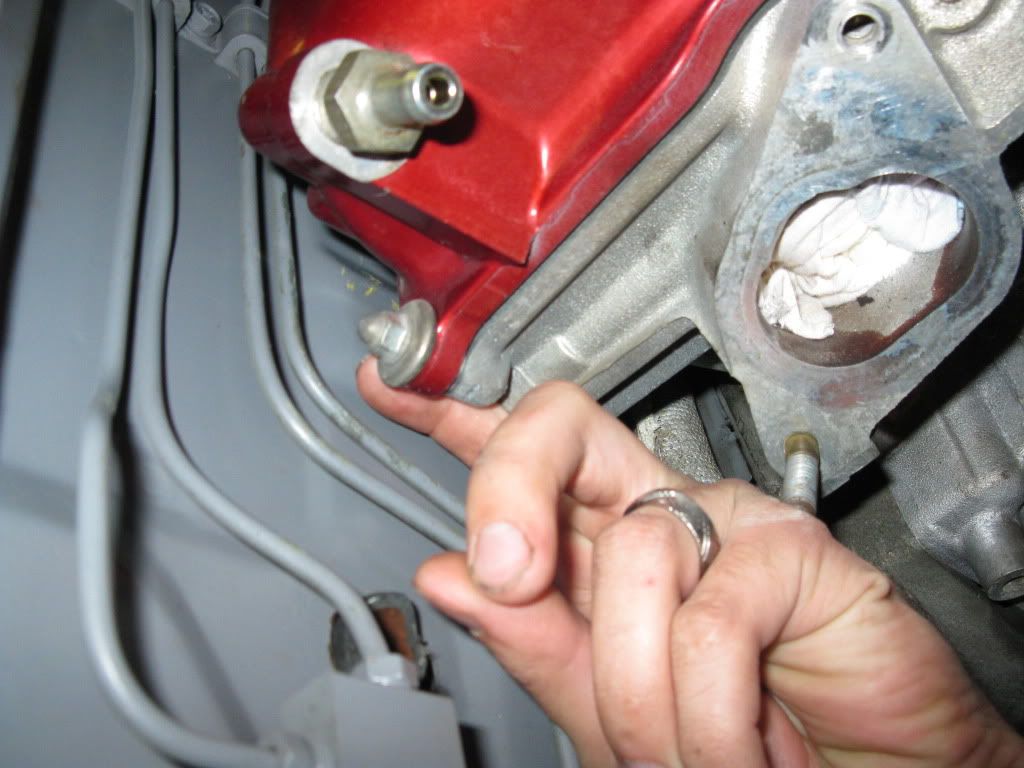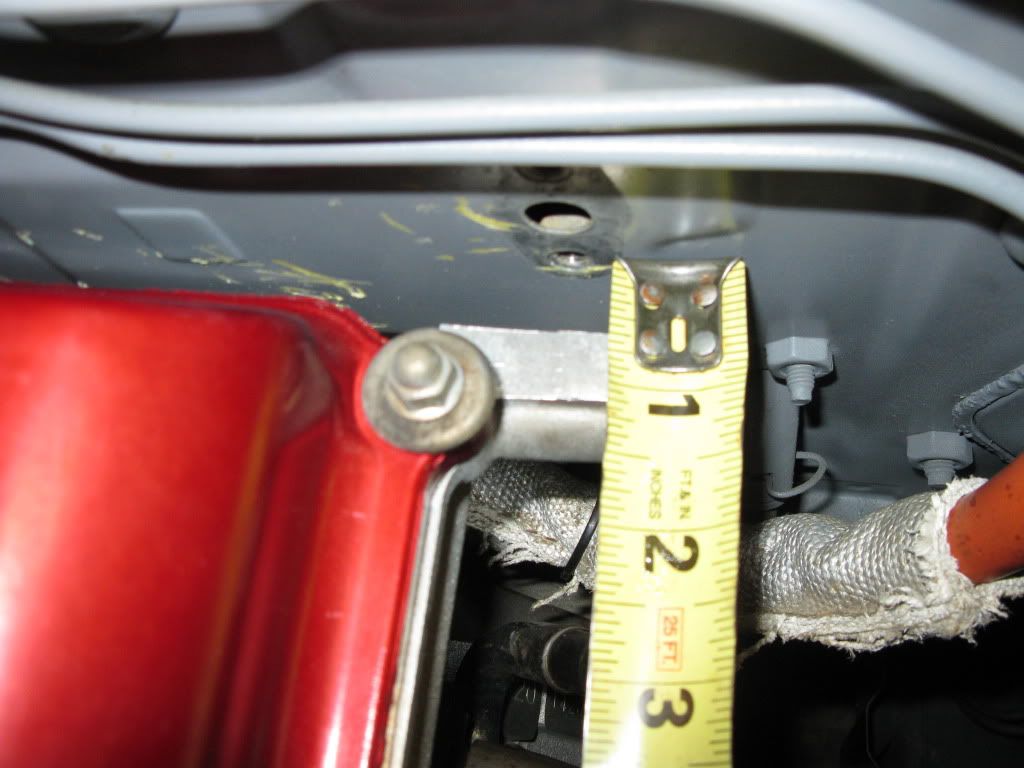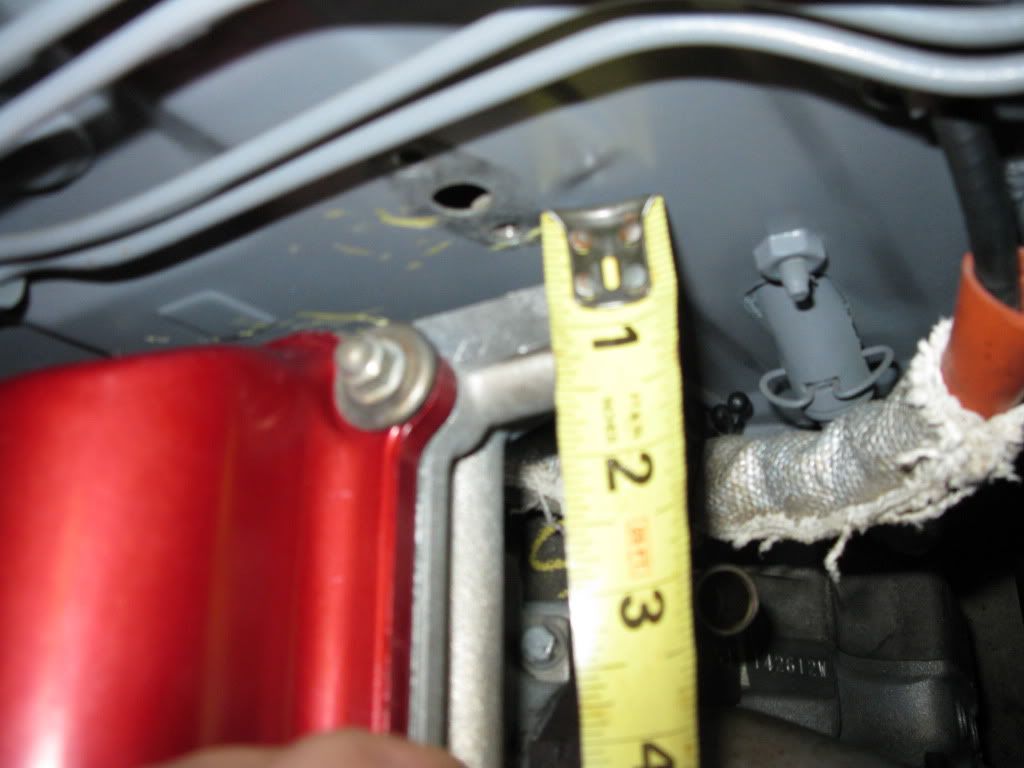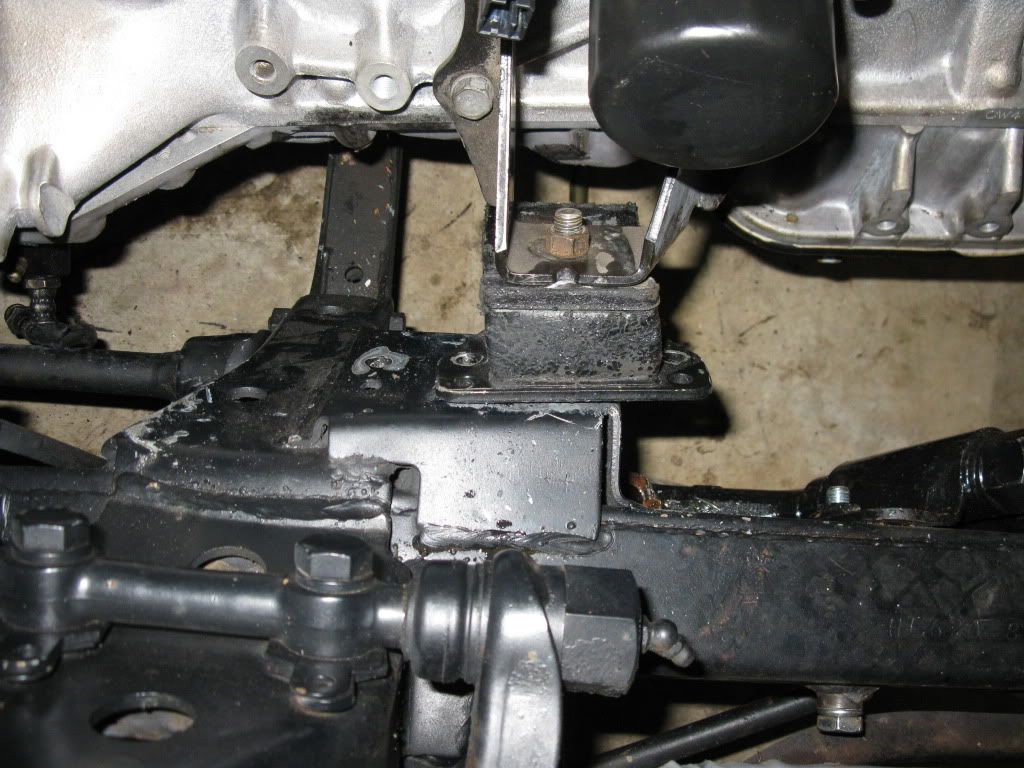 Notice how the mount is not lined up, this is where you need to measure!!!!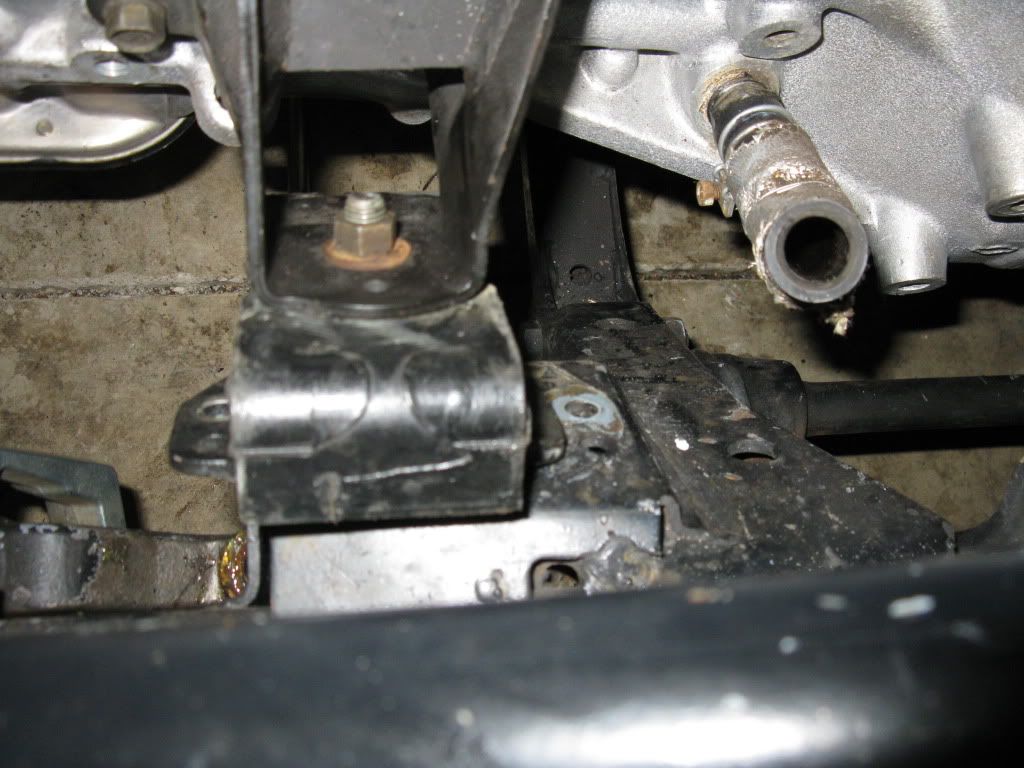 Once you have the engine positioned properly and partially resting on the frame mounts (see Pictures) You can then carefully measure the distance in which you will need to move your frame mounts forward. put a peice of masking tape on each fender and record the measurment for each side so you dont forget it. This is a critical step so make sure you measure several times.

With your measurments taken you can then remove the engine form the engine bay and put it back on your stand.
Very carefully use a die grinder with a very thin (1/16") cut off wheel cut the welds on the factory frame mounts to remove them. Once removed you can then scoot them forward the amount you determined when test fitting the engine. Be sure to keep the same height and angle as the factory mount location (you will notice the frame horns angle down towards the front of the truck) Tack the mounts in position and double check all of your measurements. Weld your mounts in their new location. The passenger side mount should sit a little further forward than the drivers side, this is normal. If your mounts are evenly spaced then you didnt measure properly.
If you havent ever welded before I would suggest letting someone experienced do this because this isnt a weld you want cracking under torque!! After welding dress down your wleds so that you can plate over the top of your weld for added strength. (see pictures)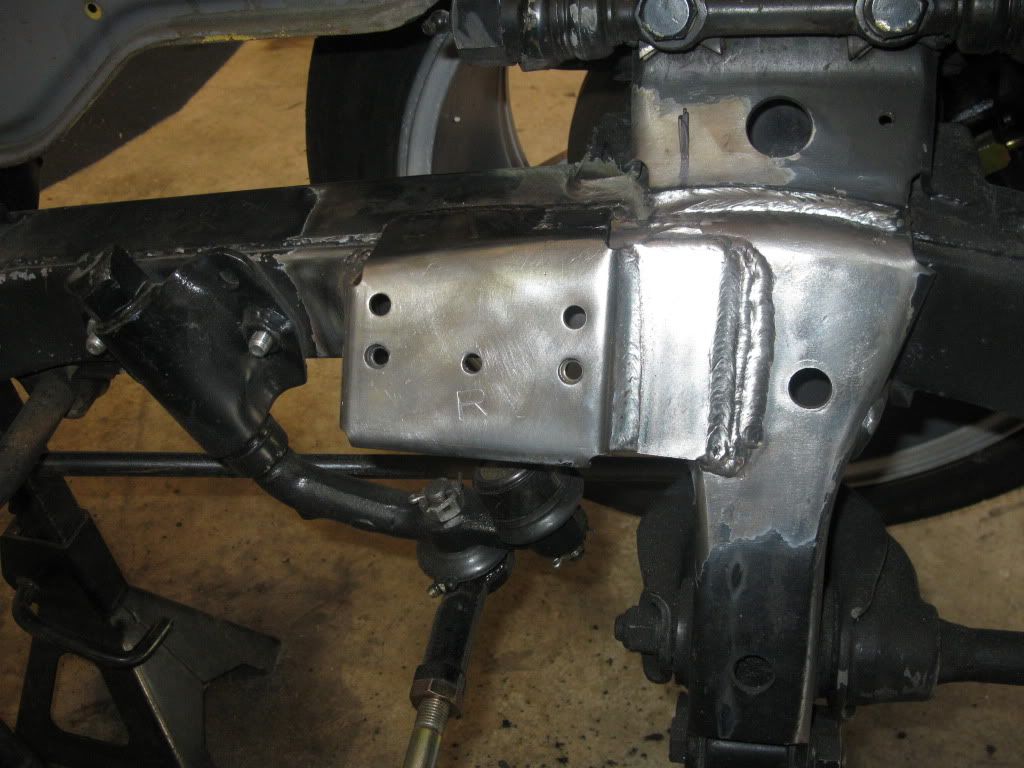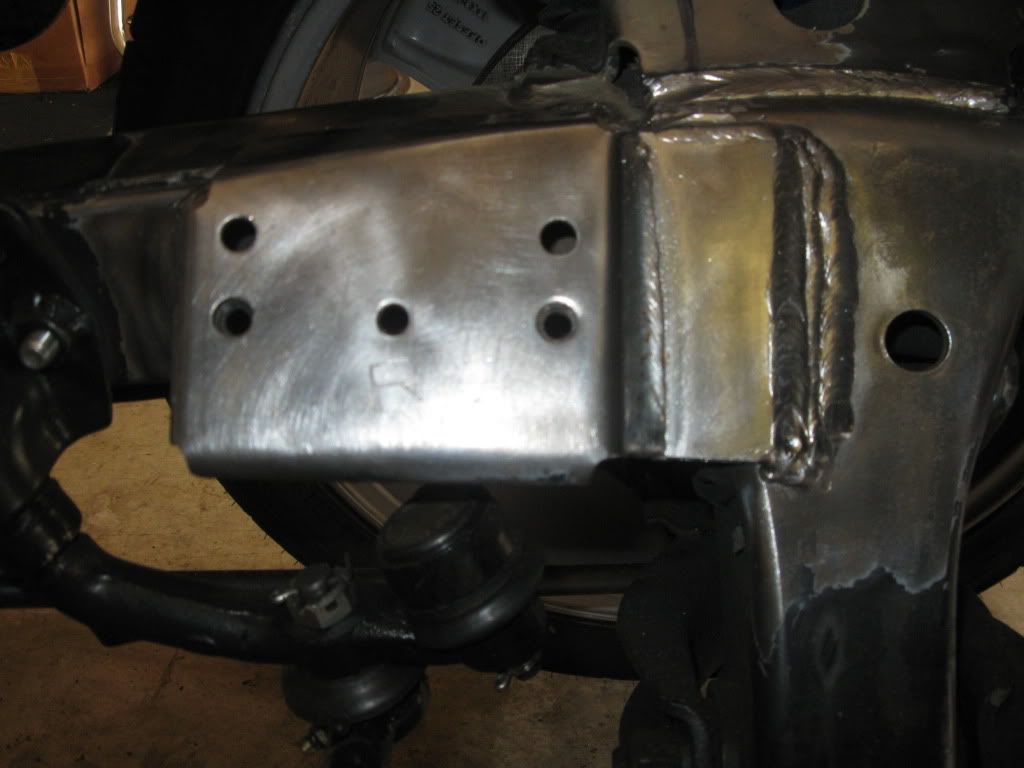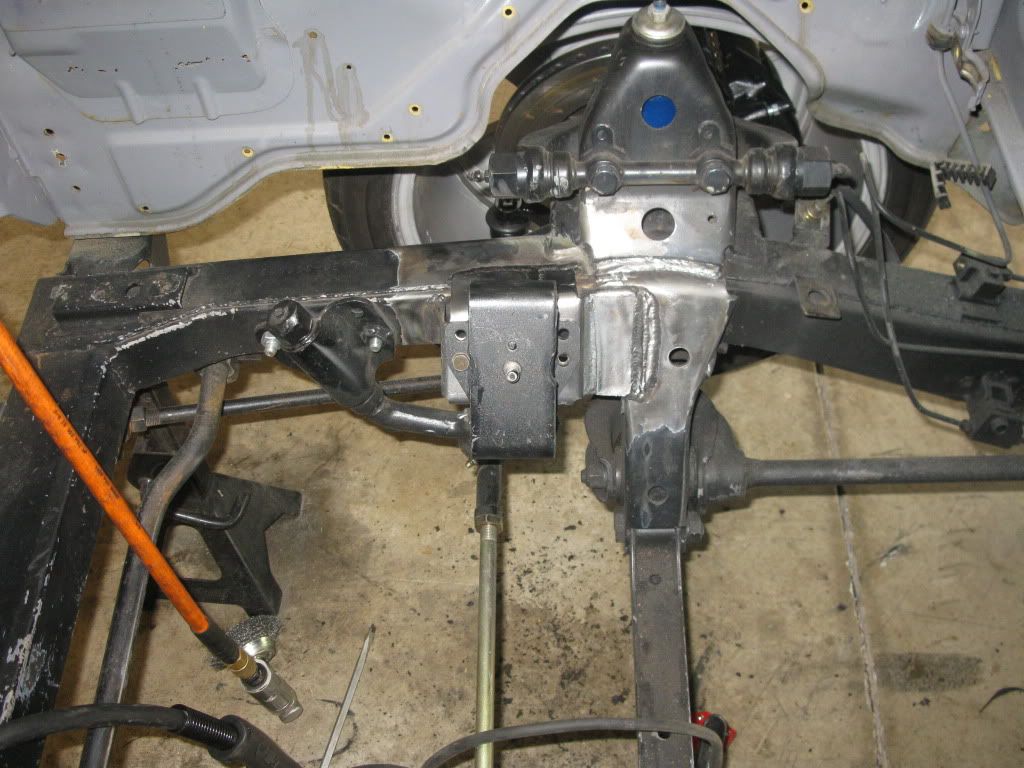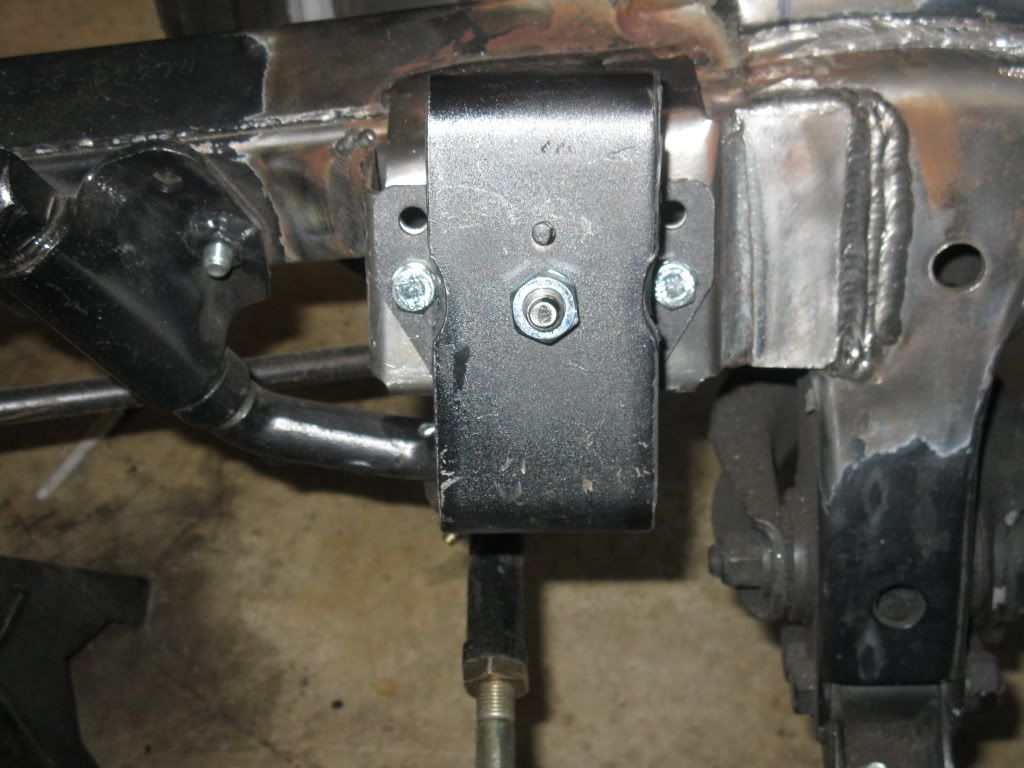 If you have done your job correctly your engine will drop in easier than the factory L20B!! Pat your self on the back, and look forward to the weeks worth of work that still lay ahead!!!


Edited by Braden620 - 31 Dec 2011 at 12:51pm