Battery and Smog

Printed From: Datsun Mini Truckin
Category: General
Forum Name: How To
Forum Discription: How to do this or that
URL: http://www.datsunminitruckin.com/forum/forum_posts.asp?TID=2760
Printed Date: 05 Dec 2019 at 2:39pm


Topic: Battery and Smog
---
Posted By: rharm78
Subject: Battery and Smog
Date Posted: 19 Jul 2014 at 3:35pm
---
Hi, im a new member so im not to familiar with this...But anyways I have a 1978 620 and I just recently acquired a new Ac Delco battery but it is substancially bigger than my old one and im scared it wont fit. So what is the correct size for the stock battery? Also I live in California and my truck is about ready for Smog, is there anything I should double check or do to help make it pass?
Thanks! -Russell
---
Replies:
---
Posted By: Jersey
Date Posted: 19 Jul 2014 at 7:46pm
---
Welcome! My battery is: 11"X7"X8.5" it fits within the battery tray just fine and I have no issues with the hood closing and grounding the battery. Make sure you use a battery tie down to keep it locked in place. As for the smog, make sure everything is there and in working order, also check your gas cap for a cracked gasket, replace if necessary. Good luck!
Post some pics of your truck when you can.
Jersey

P.S. I couldn't find dimensions on the stock battery. As long as it fits without any impediments...I'm sure your AC Delco will be fine.
---
Posted By: rharm78
Date Posted: 20 Jul 2014 at 12:29pm
---
Jersey- Great! Thanks for the help! -Russell
---
Posted By: EzCruiser
Date Posted: 20 Jul 2014 at 3:54pm
---
Welcome! Make sure you arent using a bungee cord to hold the battery down. You gotta make sure it clears the hood to o. I use an optima red top with no issues. Don't remember the size but I think it was bigger than what it had before. Which was a honda battery.

-------------

---
Posted By: rharm78
Date Posted: 20 Jul 2014 at 7:33pm
---
The guy at the Firestone Tire where I got it from (they were on Sale for $80.00...best price in town) said that my old battery was a vw beetle battery and that's why I had such low cranking power. Me and my father mad our own battery mount using a piece of aluminum and then the original steel rods with rubber bushings a lock washer and 2 nuts. I tried pretty hard to move it and it was pretty well secured it wouldn't budge-Thanks for all of the suggestions and help!
---
Posted By: rharm78
Date Posted: 20 Jul 2014 at 7:37pm
---
P.S. it definitly clears the hood, me and my dad drove the truck around a lot yesterday just to make sure that everything is in good working order and it was so im hoping to Smog it Tuesday and for the best results!!!!!!!!!!
---
Posted By: rharm78
Date Posted: 20 Jul 2014 at 7:48pm
---
http://s1381.photobucket.com/user/rharm66/media/0511141953_zps2f92da7b.jpg.html" rel="nofollow">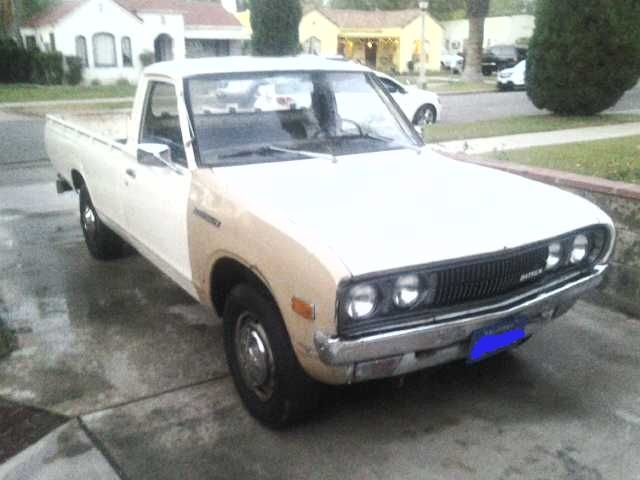 ---
Posted By: rharm78
Date Posted: 20 Jul 2014 at 7:50pm
---
http://s1381.photobucket.com/user/rharm66/media/0511141953b_zps4aaba687.jpg.html" rel="nofollow">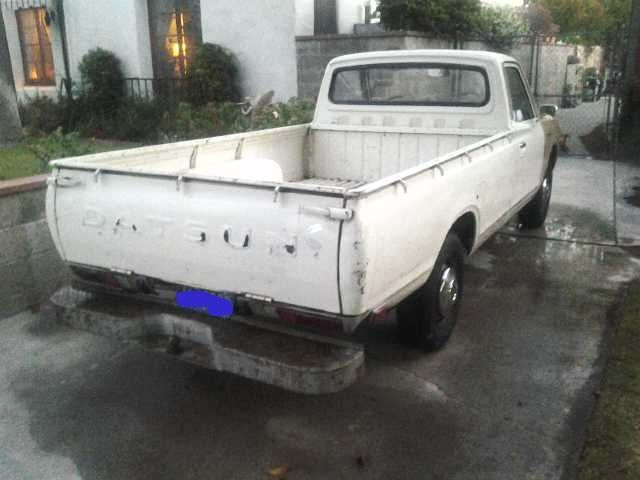 ---
Posted By: rharm78
Date Posted: 20 Jul 2014 at 7:50pm
---
http://s1381.photobucket.com/user/rharm66/media/0511141954a_zps4c81c6d4.jpg.html" rel="nofollow">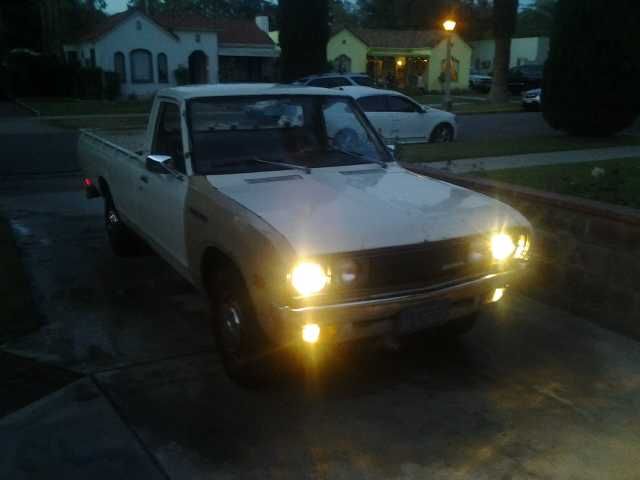 ---
Posted By: rharm78
Date Posted: 20 Jul 2014 at 7:52pm
---
These are the newest pics I got....2 or 3 months old ive done some work since then
---
Posted By: Rusty
Date Posted: 20 Jul 2014 at 11:54pm
---
Welcome to the DMT forum. Nice lookin truck. Hope you can get passed on all that Cali. smog crap. Start ya a build thread in the 620 section if ya start doing any work on the ole girl. How many years until a vehicle is exempt out there on the smog stuff?

-------------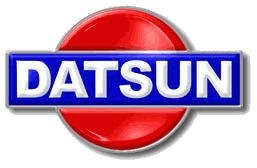 ---
Posted By: rharm78
Date Posted: 21 Jul 2014 at 12:02am
---
Rusty- No way to really tell. Its at 1975 now and there's been rumors floating around for a couple years that their gonna move up to 1980 but like I said its been floating around for awhile
---
Posted By: Rusty
Date Posted: 21 Jul 2014 at 12:09am
---
You would think they would have it set at a certain number of years, like anything 30 years or older. That's crazy Cali. government crap for ya. So 10 years from now it could still be only before 1975.

-------------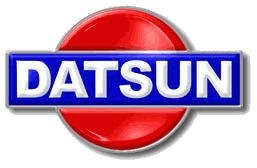 ---
Posted By: rharm78
Date Posted: 21 Jul 2014 at 1:13am
---
Possibly...but that would really suck so I hope not. Me and a lot of the guys at the Inland Empire Datsun Meet are hoping that its soon to be true to be moved up to 1980, but even then cars will still be "tortured" by the thoughts of Smog
---
Posted By: rharm78
Date Posted: 28 Jul 2014 at 3:20am
---
It passed smog and is now insured, registered, and a daily driver
---
Posted By: datkimsun
Date Posted: 28 Jul 2014 at 10:47am
---
rharm78 wrote:

It passed smog and is now insured, registered, and a daily driver


-------------

http://nwdatsuns.com/
---
Posted By: rharm78
Date Posted: 08 Jan 2015 at 1:28am
---
Rusty, thanks for the lil hustler sticker and Datsun mini truckin sticker via ebay!!!! -Russell AKA via ebay chryslerdatsun
---