update:
gas tank went to the local radiator shop for cleaning and he said it was a good tank and the damage wasnt too bad. just waiting for pick up or an update
* on a side note: did some research for an aftermarket fuel tank but i couldnt afford it. not bad pricing but when you start to add tank, sending unit, filler neck, etc... it gets expensive.
___________________________
also went to the all datson swapmeet in eaglerock and picked up some silicone hose and wanted to see if the pieces i bought will fit when i get the engine back in but nevertheless i did get a good price for the extra pieces the guy wanted to sell.
also picked up a fan with a fan shroud but like all impulse buys i did not know the size i needed for my radiator and the fan ended up a little bigger than expected. i may need to get a custom fan shroud made or make on myself but then again what you think. honest opinions please, will it work, too big, cool, yeah, not so much?..
below is an pic of the fan and radiator only. i took the fan shroud off: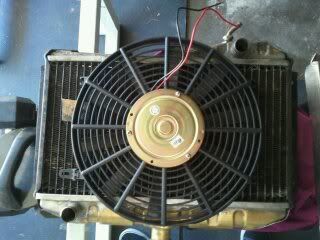 ___________________________
then i also found a place here in southern cali that sell EPDM rubber sheet for the gaskets to the truck. what is a good size material for the headlight, taillight, signals
would you recommed 1/16" or 1/8"...i assume a decent seal is the idea but i bet the gasket is good for keeping the vibration down both are thin but i never cut gaskets for a build before so i could get some help on this: